Building a collaborative planning app to take the headache out of group travel
Branding / User Research / UX Design / UI Design / Prototyping / Usability Testing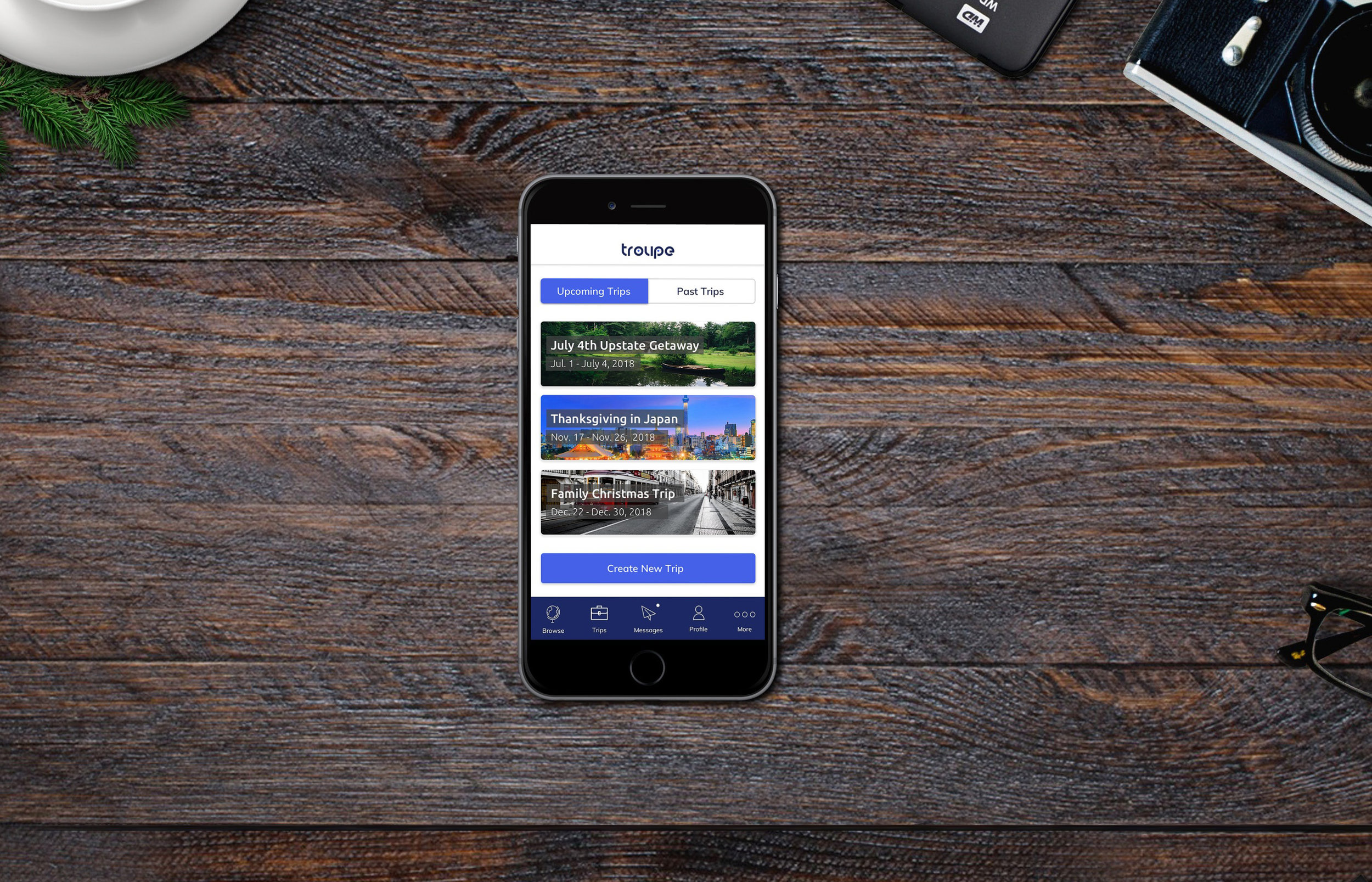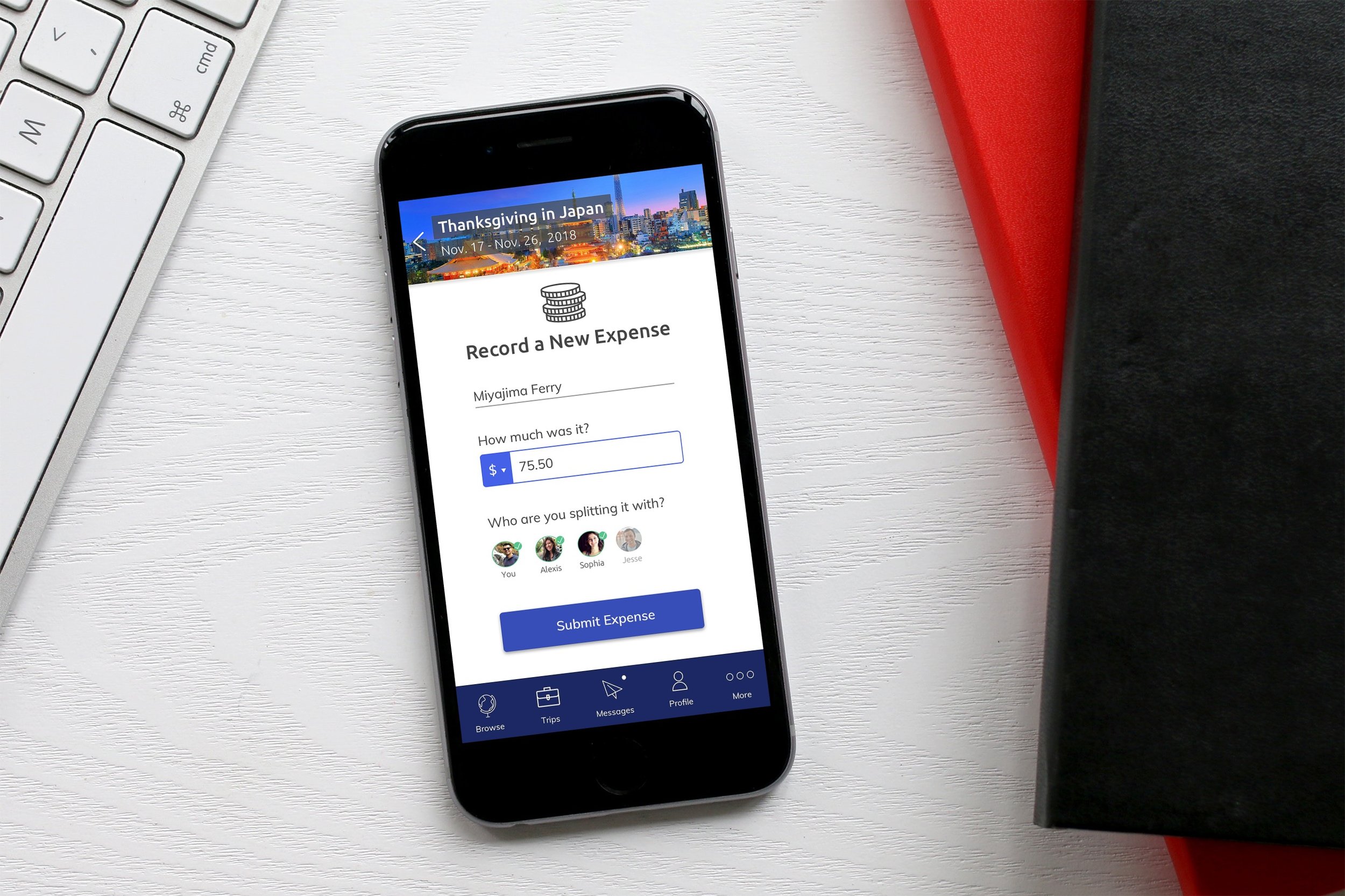 While taking a trip with friends can be an incredibly rewarding experience, anyone who's traveled with a large enough group knows that coordinating flights, accommodations, and activities for more than 2 people can quickly become a Herculean task.
To make the process both more enjoyable and more manageable, Troupe was developed as a single-app solution for collaborative group travel. Instead of endless email chains and one-off Google Docs, Troupe centralizes your communications, expenses, reservations, and bookings into a single trip itinerary that can be shared amongst the travelers in your group.
Potential flights and accommodations can be imported directly into the itinerary from sites like Airbnb and Google Flights, where they can be tracked, voted upon, and booked. Integrated expense tracking also allows you to record what you've paid for on the trip, which means itineraries can be "cashed out" and balances between friends paid via Venmo once your travels are complete.
The research phase began with a deep dive of existing travel planning products on the market, including apps like Google Trips, Travefy, and Tripit. Each product was broken down into its key features to identify any overlap or gaps that existed in core functionality. While each of the products had an impressive selection of features to offer users, there were few features (if any) that were consistently present across all three.
1:1 user interviews were also conducted with frequent travelers in New York City to determine which features would be most critical to product adoption and success. To validate assumptions about which pain points were most important to address within the app, a Google Survey was also sent out to 53 respondents around the world.
Key Takeaways:
98% of people surveyed had traveled as a group of 2 people or more within the last twelve months
57% of people identified email as their primary means of communication when planning a group trip
30% of people said they send 20 or more emails back and forth in the process of planning a trip
73% of those surveyed agreed with the statement "When planning a group trip, I prefer to collaborate on decision making (where to stay, where to eat, etc...)"
89% of people surveyed agreed with the statement "Planning group trips can be stressful"
86% of people surveyed said they preferred to have all their trip details in one centralized location
With some key insights distilled from the user research phase, an empathy map was constructed to help guide the feature development portion of the project. Memorable quotes were also pulled from the user interviews to help validate the need for prioritizing certain features over others.
Identifying Key Task Flows
Before moving into the first phase of wireframing, 6 key task flows were identified that would be critical to a successful user experience within the app:
Creating a new itinerary
Accepting an invitation to an existing itinerary
Adding a group expense to an itinerary
Adding a flight option to an itinerary
Adding an accommodation option to an itinerary
Voting on accommodation options within an itinerary
Low fidelity wireframes were built to visualize the information architecture and better understand the flow between key screens.
Once the wireframes were complete, a naming exercise was conducted to settle on a final brand identity for the product before moving into the visual design phase. Troupe was ultimately determined to be the best fit, and a wordmark and brand style guide were developed to inform the overall UI design.
With the UI design finalized, a high fidelity prototype was built using InVision that could be tested with users in person on a mobile device.
The high fidelity click-through prototype was tested 1:1 with participants in New York City to evaluate overall usability and uncover any friction points users might encounter while navigating through the app.
The primary goals of the usability testing were:
To determine how successful participants were in completing the key task flows
To identify any additional features users would find valuable to include in future iterations of the app
To gauge whether or not participants would use the app in place of more traditional planning methods like email, text, etc…
To evaluate how intuitive users found the navigation and overall design of the UI
Participant overview:
6 participants in total 4 women and 2 men
All participants lived in New York
Age range for participants was between 25 and 53 years old
Key Takeaways
100% of participants were able to create a new trip itinerary to share with friends
100% of participants were able to successfully add a new expense to an existing itinerary
100% of participants were able to add a new traveler to an itinerary
100% of participants were successful in adding a new flight to a trip itinerary
Every user expressed positive sentiment about the product and remarked that they would use it in the future, were it to be developed and offered in the app store
With the user testing phase complete, final specs were compiled in Zeplin and the prototype adjusted for handoff to developers in early June of 2018.